Today an eager second grade classroom from Bertschi School had great time exploring at the Market. Here, Scott Davies, director of the Education Program at the Market, offers a jellied spider sample to a brave eyes-closed taste tester (it was really just a doughnut).

In the North Arcade, Dave, from North Rain, explained the ins and outs, as well as the financial prospects, of running a jewelry business:

In the Economy Building, owner Alan, of  The Great Wind-Up, talked shop, explaining how much fun it is to be in the toy business:

Across the street in the Corner Market building, Andrew, of Britt's Pickles, offered some delicious samples: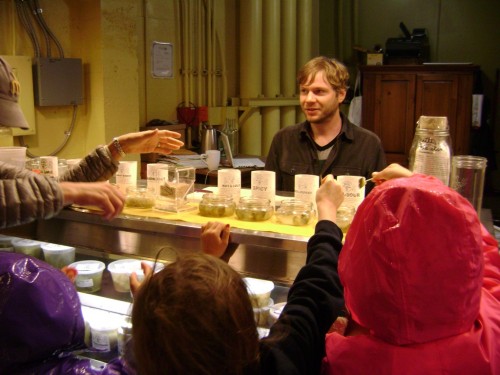 and for those looking for a sweeter treat, the samples at the new Ellenos Real Greek Yogurt sure fit the bill – yum – and thanks!