Today, 2nd graders from Villa Academy visited the Market! We had such a wonderful day. The students got to see a beautiful Pike Place Market Diorama donated by the artist, Shu Yu Lin, an Industrial Design student at the Art Institute of Seattle:
A diorama is a  three-dimensional full-size or miniature model. This diorama was inspired by this photo of the Market from 1915:
Erin captivated our attention with the history of chocolate at Indi Chocolate. We learned about how the cacao bean goes from the farm to the chocolate bar that we eat or  the cocoa butter we put on our skin! I think we now have some future chocolatiers among us:
A little more chocolate? OK! We got to sample some Pappardelle's Pasta!  Some chocolate pasta ideas we had include making a chocolate pasta sundae with ice cream and of course chocolate syrup. Not in a dessert mode? It's OK, we also talked about pairing chocolate pasta with mole, a savory Mexican sauce that has chocolate in it! There's a lot you can do with chocolate. Here we are lined up for our chocolate pasta samples:
While exploring the Market, we stopped by the Pike Market Food Bank. The students at Villa Academy generously donated to the food bank! Thank you for your kindness and support, Villa Academy!  Here we are with Brian learning more about what the Market does to help fight hunger:
Not enough chocolate of this visit? Well, one of our last stops was Chukar Cherries! We got to sample tasty chocolate covered cherries and learn about their cherry orchard in Yakima Valley: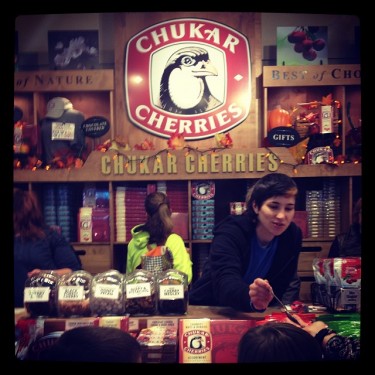 Thanks for visiting the Market, Villa Academy! We sure had a "chocolatastic" day!