Happy first day of Spring! For the past 18 years, Pike Place Market volunteers and community members have brightened up corners (15 corners to be exact!) of downtown Seattle by passing out daffodils grown by Market farmers.  Today about 9,000 daffodils were passed out. Here are some of our photos.
Volunteers grab daffodil-filled buckets from Pike Place Market and walked to designated areas in the city to pass out a bit of spring cheer!
Here are two of our education leaders Mark and Christine passing out daffodils at the corner of 5th and Olive!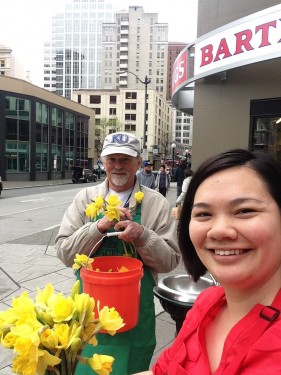 Happy first day of spring, Seattle! In the true Seattle spirit…it rained!