On the very first day of the 2013-14  school tour year, two third grade classrooms from Sand Point Elementary School enjoyed an exciting morning of exploration and discovery. One student made a nice donation to Rachel, who raises money to support those in need in the Market Community – thank you!

A short time later the friendly and generous bakers at Pike Place Bakery treated a lucky group to a huge Texas Doughnut!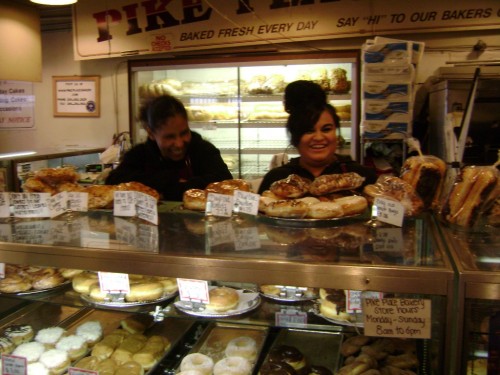 A little farther on in the main arcade, they sampled some chocolate linguine from Pappardelle's Pasta:

Across the street in the Sanitary Market building, they closely examined the live crab tanks at Jack's Fish Spot:

Finally, no trip to the Market would be complete without a visit to the world famous Gum Wall. Here one group points out a piece (apparently) left by one of them on an earlier visit – eeewww!