The new school tour year for the Market's Education Program is about to begin, so today the program leaders gathered up to get ready. We are booked solid, with 109 classes coming on 98 tour dates – and a waiting list! We started out in the Goodwin Library, catching up on our summer activities and talking about the new year:

We then headed out on a quick visit to some of the new places we'll have on our tours this year. Our first stop was at the brand new Market Commons neighborhood center, on Western:

Next up was indi chocolate, in the new MarketFront, where Scott and owner Erin enjoyed talking about the new school tour year:

Lots to see, smell, taste, and touch at their new location:

We stopped next door to chat with Honest Biscuits owner Art, who is also enjoying his wonderful new location: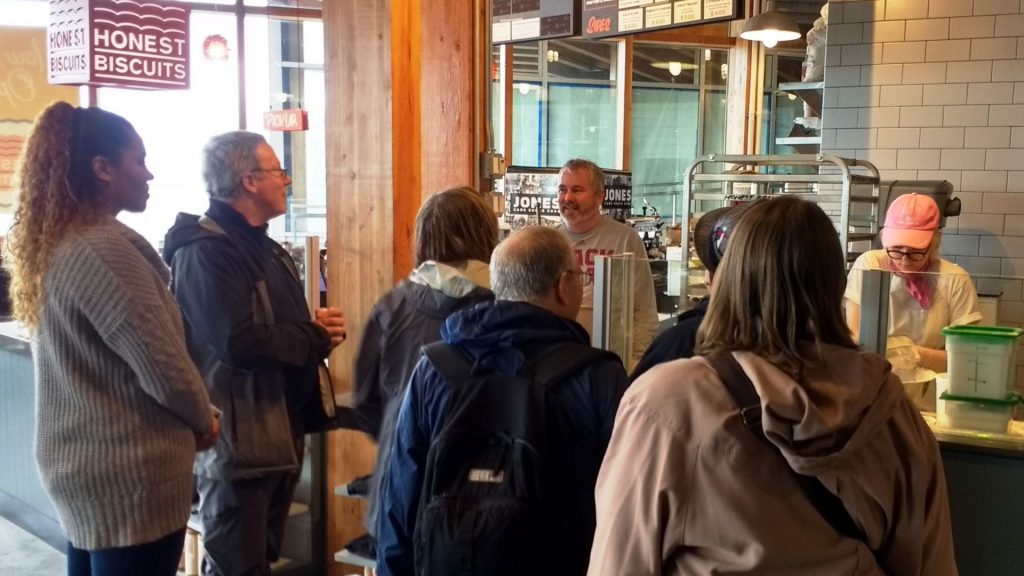 As some tour leaders left, others headed back though the "old" Market, and were delighted to talk with workers at a new high stall, Growing Washington. It'll be nice to have local, organic produce available year round at the Market!

The first school tour of the year is October 2, and we can't wait!